Keep on learning!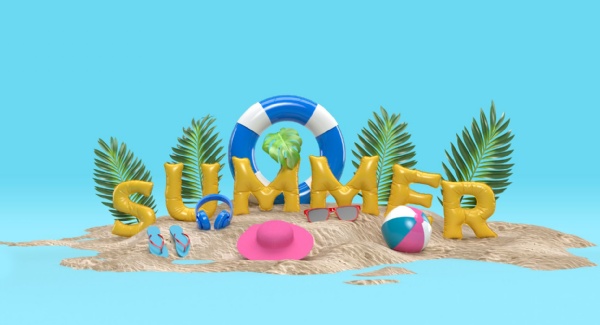 July is here and the summer holidays are just around the corner.
Children the length and breadth of the Northern Hemisphere are preparing for a summer of fun in the sun; a world away from the classroom.
Whilst the summer holidays are vital to recharging children's metaphorical batteries, the learning need not stop entirely.
There are some subtle ways in which you can keep your child's grey matter ticking over, without them even noticing, and to avoid what has become commonly known as the 'summer slide'.
Below are some suggestions of tried and tested ways to keep the learning going over the summer.
Use your imagination.
Children who use their imagination are, at the same time, subtly expanding their vocabularies, as they experiment and experience new concepts. It may well appear that they are not directly learning when they are crafting their own superhero capes or concocting complex chain reactions with educational LEGO sets, they are calling on familiar skills and developing new ones.
Play games
From board games to physical games to educational video games; games have so to offer in terms of teaching children new skills and testing their knowledge. Why not develop number and counting skills through card games or chess? Board games such as Scrabble and Monopoly are not only fun yet actively develop literacy and numeracy skills. Games such as these will come in particularly handy on those rainy days by providing hours of mentally stimulating entertainment, alongside a bit of character-building healthy competition!
Keep a summer diary
A great way to build any child's vocabulary is free-form writing. Alongside vocabulary development, children will learn to hone their thought processes and articulate how they feel. Perhaps they could record what they get up to each day, the people they meet, anything new they feel they have learned; the diary will also be a keepsake of memories in years to come, for those wedding and 40th birthday speeches!
Get in the kitchen
A whole host of different skills can be learned in the kitchen! A mere helping hand with breakfast or an evening meal will serve to develop their basic cooking and baking skills. There are also wider skills to be practised, such as the ability to follow and read recipes, measure out ingredients, understand units of measurement and learn kitchen safety.
Write e-postcards to friends and family
Whether you are bound for Bognor or Bahrain, detailing adventures in e-postcards to send to those back home is a great way to ensure that children are continuing to practise their writing, spelling and grammar.
Changing rooms
A small word of caution here; children rarely have the opportunity to design their own rooms to best suit their individual needs. Invite your child to devote some thought to ways to improve his or her living space. Ask your child to draw the layout of their 'new' room. The following questions can be used as a guide for their thinking:
Other than sleeping, what do you do most often in your room? Play games? Work on a computer? Listen to music? Do homework? Entertain guests?
What furniture or other items do you use most often? What do you use least often?
What kind of storage do you need? A bookcase? A clothes' hamper? A desk?
What do you like best about your room? What do you like least?
How do you want to change your room?
Discover the great outdoors
Why not get them to learn how to plant and grow some fruit and vegetables? So much learning here; the planting process, the growth process, such as how much water is needed and the seeds need to be in direct sunlight.
Learning is like exercise: once you take a break from it, it can be harder to get back on track. So, keep your child's learning on track by ensuring their summer holidays is full of learning, as well as the odd bit of laughter!

Bridget Saul
Headteacher