Cameron Vale Charity Auction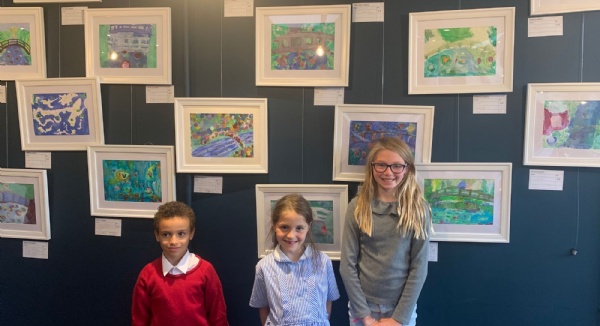 Brilliant brush strokes on show at our charity auction
To mark Children's Art Week, we enjoyed a whole raft of creative activities, the highlight of which was a fabulous Charity Art Show and Auction, held at Chelsea Theatre on Thursday 30th June.
Our youngsters were absolutely delighted to see their masterpieces on display in this prestigious gallery setting, as were their parents and fellow students who also came along to celebrate their achievements and support a good cause.
Over £5,000 was raised for local charity, Gold for Kids, which helps dentists, and their patients, make a difference for children in need within the community. Its primary focus is to recycle re-useable dental products which have significant economic value to support those who perhaps are unable to access dental support through the usual routes.
Millie Kenworthy, Class 2 Teacher at Cameron Vale School & The Chelsea Nursery, explained: "Gold for Kids is a wonderful cause and we decided, with the support of parent group the Friends of Cameron Vale (FoCV), to use Children's Art Week as an opportunity to curate an art show and exhibition to raise funds for the charity.
"It's provided us with a terrific opportunity for our children to get out the paints and brushes, so they could embrace their artistic flare. Art is a very important part of any child's development because it encourages creativity and imagination, and they always love being able to point to their pictures on the wall displays around school.
"To be able to do this in a real-life gallery setting really was the icing on the cake, and we were very proud to showcase a whole range of children's paintings, sketches, models and collages at the event. Many of these were inspired by Claude Monet's famous 'Water Lilies' painting, since the youngsters had spent time in class recently studying his impressionist style and techniques."
Children's Art Week – which this year takes place over a three-week period between 29th June to 19th July – is spearheaded by Engage, the National Association for Gallery Education. The campaign offers a focal point for everyone involved in the education of children to celebrate art as a superb route for self-expression.
Many settings support the event through co-ordinated events and activities, including schools, art galleries, museums and community groups. Each week of Children's Art Week has a different focus including, the natural world, connecting across generations and literacy and creative writing.
We have always marked Children's Art Week in many different ways over the years. This time round, we felt like an opportune time to combine it with a community focused theme, by supporting Gold for Kids, to both celebrate the children's artistic achievements whilst also giving something back.
A year 4 student from Cameron Vale said: "I love art and am enjoying the chance to produce pictures I am really proud of. It was great for my family and friends to see my work in a gallery as it's usually just up on our classroom wall!"
Millie continued: "Children's Art Week provided Cameron Vale with a super platform to show our support for Gold for Kids. Teaching our children about the importance of helping others is an important lesson, so raising funds through their own artwork was an added bonus to what was an absolutely wonderful celebration of their creativity.
"Though the children were the stars of the show, their families and parents were also amazing, digging deep during the auction and also donating some other amazing prizes. It was a really lovely, wholesome evening, thoroughly enjoyed by all involved!"
FoCV played a pivotal part in the Auction, donating some fantastic lots and supporting Millie in arranging the event. Millie, who won the Mayor of London's 4th Plinth School Awards teacher's prize earlier this year, is passionate about art and the role it plays in youngsters' development.
She leads our efforts in providing creative extracurricular activities for the children. Research has shown that art encourages children to express their ideas and build their observational skills. That's why we offer a range of opportunities which enable our children to share their thoughts and feelings through art, and to also interact with others who are passionate about learning through creativity.
At the end of the event, Millie presented pupils with a specially commissioned class portrait, done by local artist Sissy Hosegood, to mark the occasion and to thank them for all their hard work.