Our Head and Deputy Head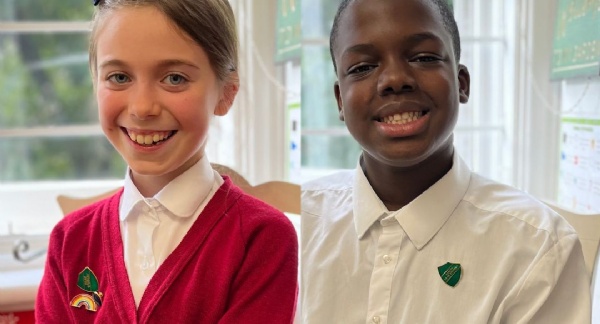 Cameron Vale Head and Deputy Head Pupils Announced
After an exhaustive application and assessment process, Miss Saul has appointed Cameron Vale School's Head and Deputy Head.
In school assembly, Mrs Thompson, our Deputy Head announced the names of the successful applicants for the two positions:
Head – Eva
Deputy Head - Caleb
All Year 5/6 pupils were invited to apply for the roles by writing a letter of application to the Headteacher, in which they were asked to explain their reasons for applying, and how they felt they would be the best person for the role. Applicants were then invited to make a presentation to their peers and staff at school assembly explaining their reasons for applying for the role, and how they would carry out their duties.
Miss Saul said: "I was thoroughly impressed with how seriously the children who applied took the process, and their commitment to, and affection for Cameron Vale School. Eva and Caleb have shown that they fully understand and demonstrate the Cameron Vale School spirit. I am looking forward to working with them both over the coming school year."
Mrs Thompson said "Eva and Caleb delivered their speeches in front of the whole school with great maturity and passion. It was a very tough choice for children of Cameron Vale School. Well done to everyone who took part!"
The Head and Deputy Head will be responsible for representing the School at both internal and external events as Cameron Vale School ambassadors.
They will act as role models for the school community, speaking at school events, and more importantly, they will be the vital link between pupils and staff, keeping Miss Saul and the Senior Management team up-to-date with news and feedback from the pupils.
Congratulations Eva and Caleb!