Poppy Day 2022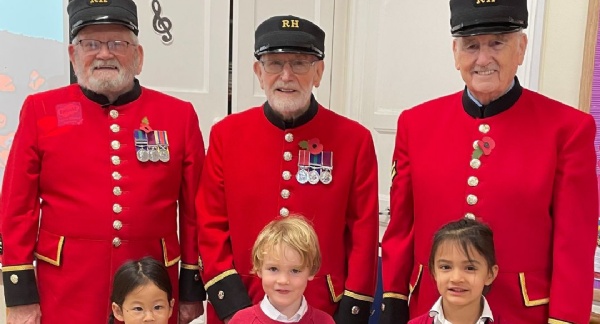 8 November 2022
It was our honour to have three Chelsea Pensioners as special guests at our Cameron Vale School Remembrance Assembly today.
IP Dewi Treharne, IP Harry Puttick BEM and IP Peter Birch (whose birthday it is today), explained who the Chelsea Pensioners are, what they do, and why it is so vital for younger generations to 'take up the light' and Remember.
They answered the children's questions, and Dewi read 'In Flanders Fields' written by Lieutenant-Colonel John McCrae in 1915. This poem mentions the red poppies that grew over the graves of fallen soldiers resulted, and the remembrance poppy has become a memorial symbol for soldiers who have died in conflict.
Thank you again, to The Royal Hospital Chelsea, the home of the Chelsea Pensioners, for attending our Assembly. Home | Royal Hospital Chelsea (chelsea-pensioners.co.uk)
See out photos HERE